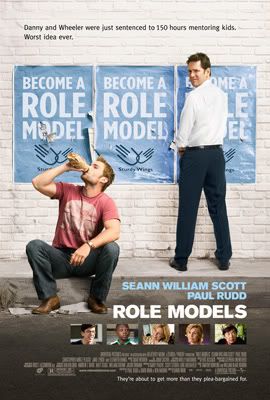 Role Models was by far one of the funniest movies of last year. With its amazing casting, great writing and use of the untouched resource of LARP(Live Action Role Play) there was no way it could be anything less than hilarious. This non stop comedy doesn't hide behind anything, except for a shield and sword made of foam and duct tape. The creative and talented writing of its three writers(
Paul Rudd
,
David Wain
and
Kevin Marino
) really showed. The pairing of actors was also very well done. The dry sarcasm of Rudd with the nerd like personality of
Christopher Mintz-Plasse
and the funny/tough/cool guy image of
Seann William Scott
with the foul mouth attitude of
Bobb'e J. Thompson
were perfect matches. Although the story of two adults being forced into a big brother program instead of going to jail is entirely unbelievable, it's definitely a must see.
The DVD
The DVD offers a theatrical and unrated version.
Special Features
The special features include deleted/alternate scenes, bloopers and three featurettes. I was surprised though when I clicked on special features that I didn't see any commentary. Personally, I always look forward to the directors/writers/casts commentary and in this case it would have been especially funny. The bloopers are a bit short in my opinion, with the kind of cast it had I'm sure there was alot more laying around. The three featurettes on the other hand are absolutely noteworthy. The first is a standard behind the scenes short and offers a brief back story and some funny snippets. The second short is an in depth look at the development of the world of LAIRE that also provides some hilarious scraps. The third and last short is actually three seperate features of
Matt Walsh's
,
Joe Lo Truglio's
and
A.D. Miles'
charaters talking about themselves, really showing all of their quick improv talents.